20 Enchanting Home Gym Ideas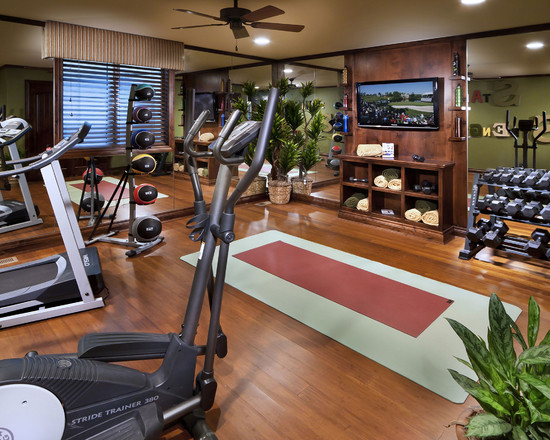 Home gyms seem to be popping up everywhere now days. You don't need to have a large space to transition any room.  We have home gyms that double as laundry rooms and home offices.  Add mirrors to any room to make it look larger.  Great lighting is also key to a great workout area.  If you're looking for inspiration for your home, you'll love these classic and practical designs below.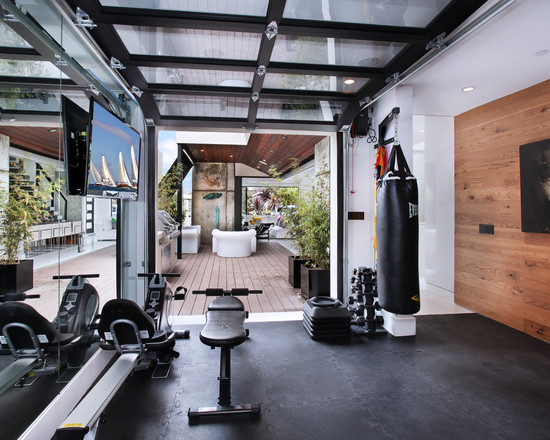 Door design with glass panels raising up. Good look for living room or backyard.
604 Acacia – Brandon Architects – Patterson Construction http://www.brandonarch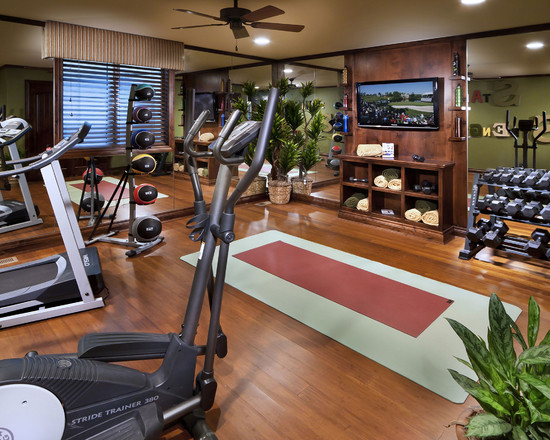 Like cardio on one side and free weights on the other and having "mat" space in the middle; mat space would allow for a pull out Murphy bed.  Great for a home gym design in the basement or house.

Workout room in Plan Three in The Overlook at Heritage Hills in Lone Tree, CO.- http://heritagehillscolorado.com/overlook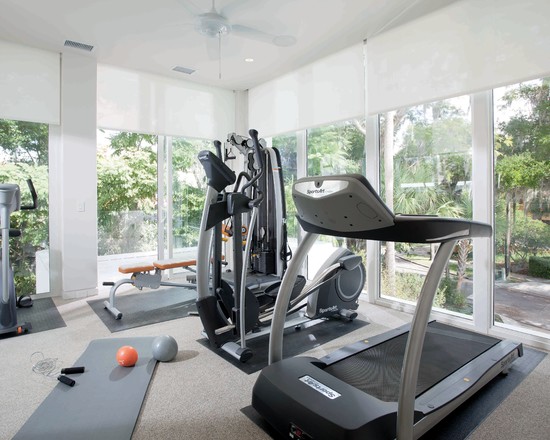 Great outdoor views in the workout room.  Lots of sun to keep working out positive with shades when the sun gets hot.
Storch Entertainment Systems – http://www.storchentertainment.com
The sliding glass doors, the shades, the high ceilings.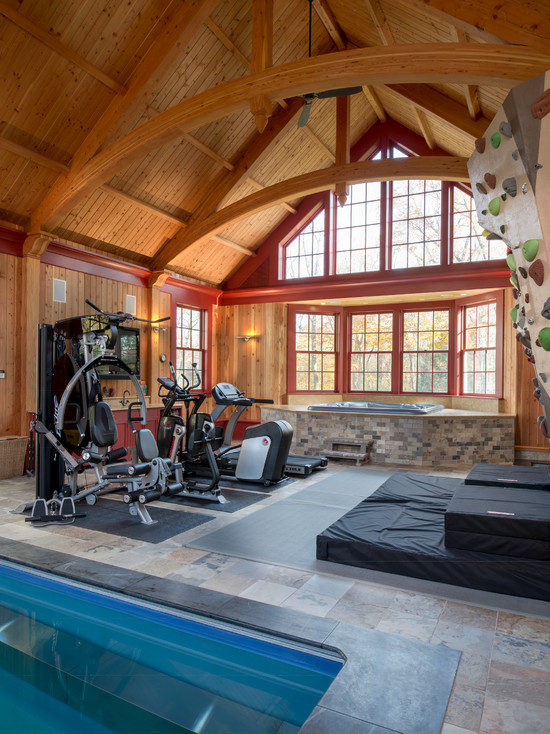 Exercise hot tub and pool combo with gorgeous wood beams.  Keep swimming in the workout routine too!
Griffiths Construction, Inc. – http://www.griffithsconstruction.net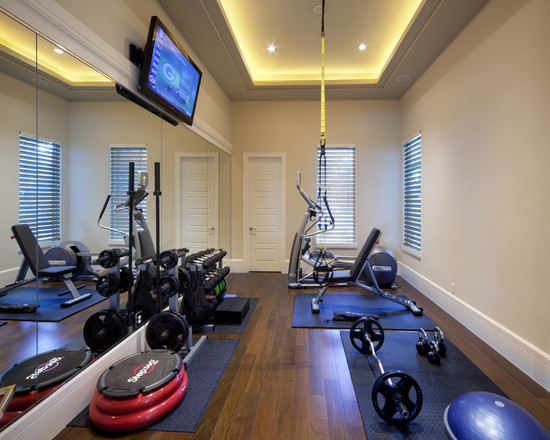 A small home gym with area for cardio, free weights.  Make the room look bigger with large mirrors.

Harvey Smith Photography – http://www.davebrewer.com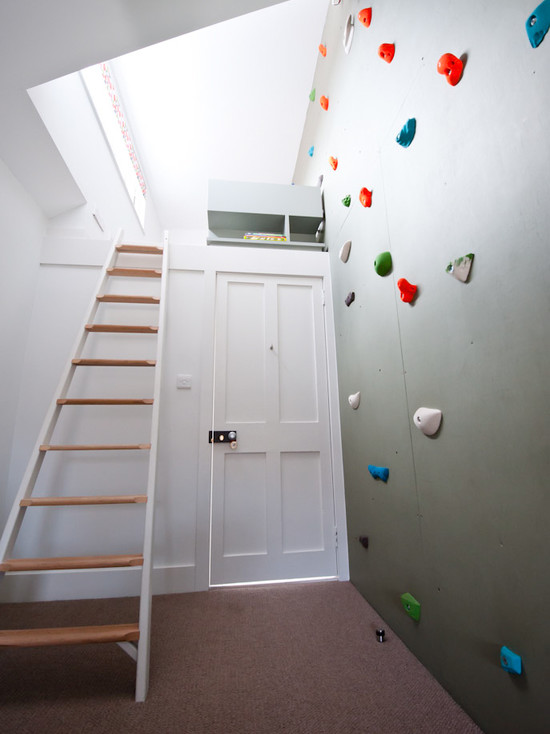 Nice stairs going up to bed getting me private space.

19HR – http://www.moondesignandbuild.co.uk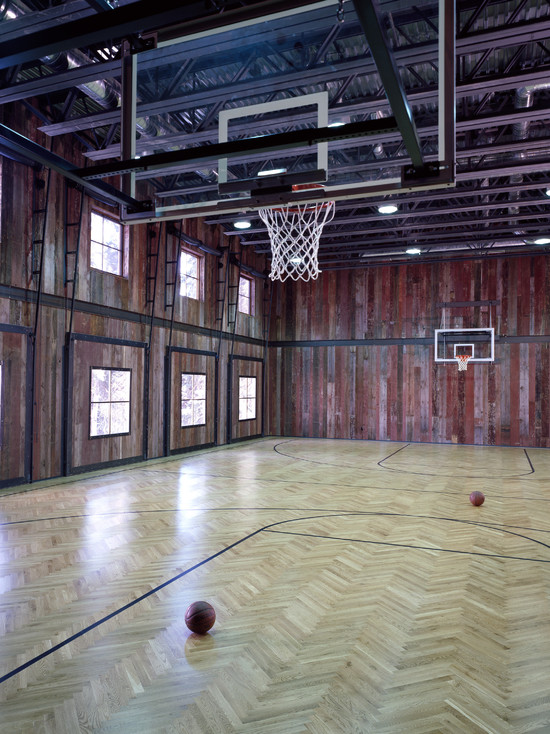 Fascinating floor pattern & industrial look.  The basketball court can also double as a running track or a large home gym used for many purposes.
Photography by David O Marlow – http://www.sliferdesigns.com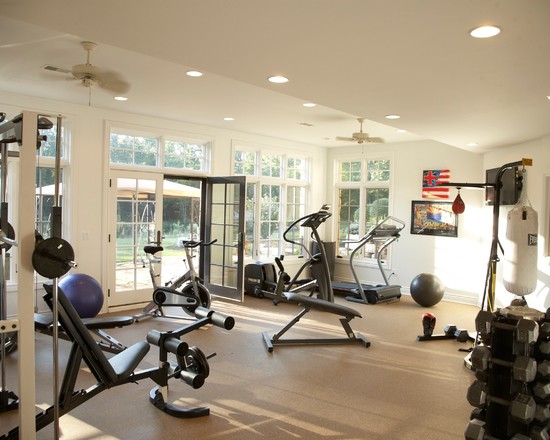 Natural lighting. French doors easier to get equipment in and out.  Keep the room well lit and light and airy.
VanBrouck & Associates, Inc.- www.vanbrouck.com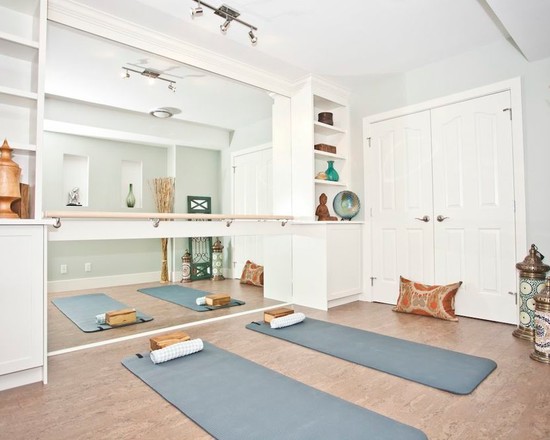 Yoga room…With addition of book shelves and lighting this becomes a multi-purpose room.  Simply fold up mats to transition the room back or ad a few more pieces that can easily be removed.
Steve Dutcheshen – http://www.tingeinteriors.com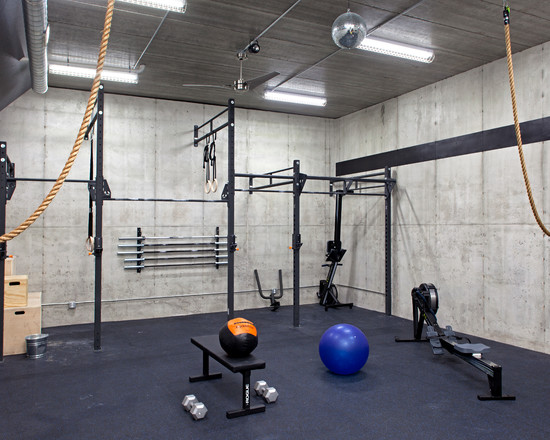 Basement Gym Idea. Industrial look, ceiling color and lights, floor.  Some people swear that this look makes them work harder.
Builder: John Kraemer & Sons | Architecture: Rehkamp/Larson Architects | Interior Design: Brooke Voss | Photography | Landmark Photography
http://www.JKandSons.com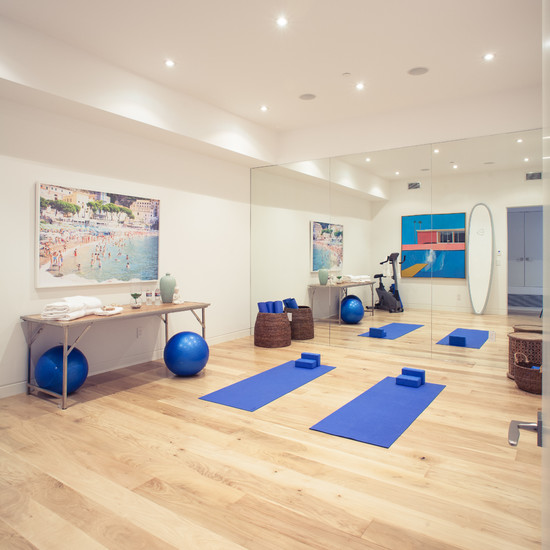 Very simple and clean with yoga mats and bike.  The large mirrors make the room appear larger.
Photo credit: Charles-Ryan Barber – Architect: Nadav Rokach – Interior Design: Eliana Rokach – Staging: Carolyn Greco at Meredith Baer – Contractor: Building Solutions and Design, Inc. – http://www.buildingsanddesign.com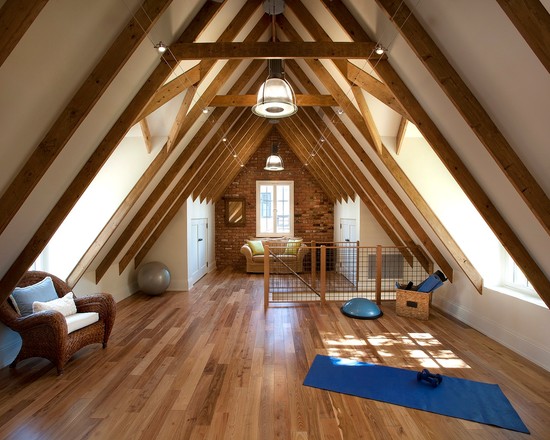 Ceiling lights. Wooden look floor with beams.  Great for yoga or lifting weights.
Dino Tonn – http://www.candelariadesign.com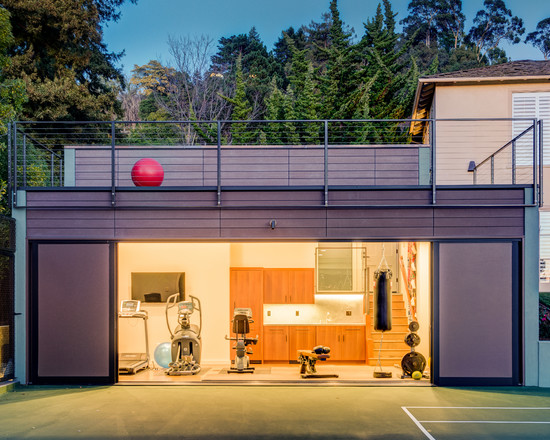 Yoga upstairs, cardio downstairs.  Transition a part of the house into a home gym.  This home gym features outdoor and indoor space.
Treve Johnson – http://www.studiobergtraun.com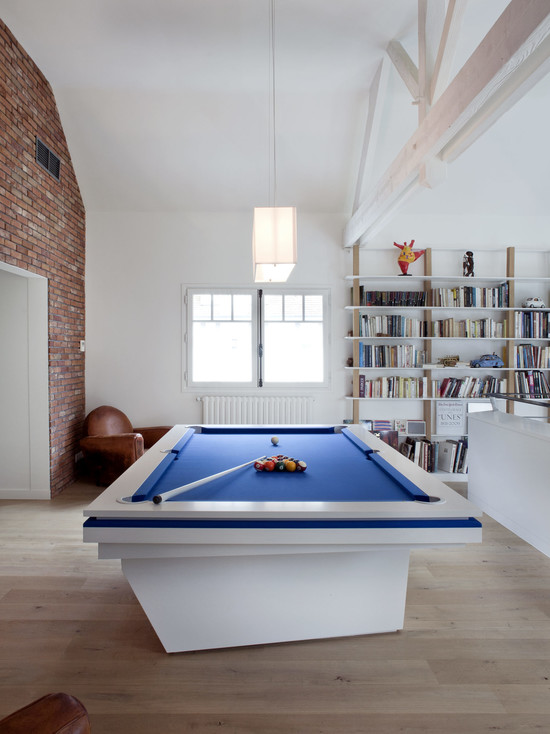 Beautiful pool light. modern and clean
Olivier Chabaud – http://www.olivierchabaud.com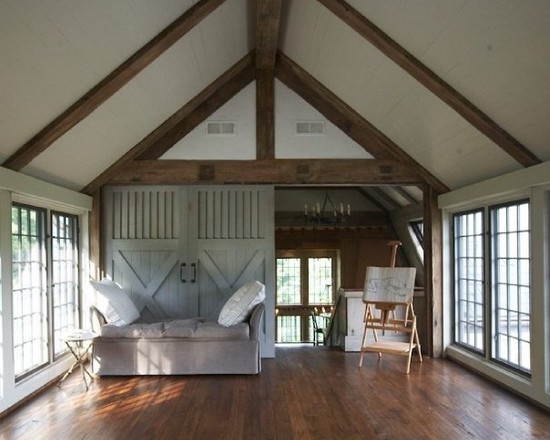 Floor to ceiling windows along two long side walls of this room create a peaceful spot for yoga and contemplation.  Also great for workout videos.

[photo by Colleen Duffley]- http://www.traceryinteriors.com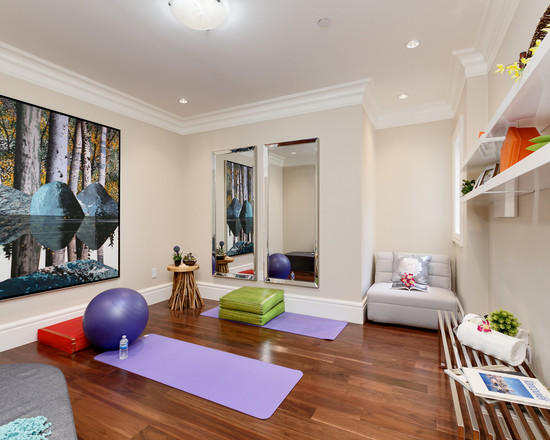 Place for yoga equipment: mats, blocks, straps, yoga tune-up balls, videos

Marguerite – http://francislai.ca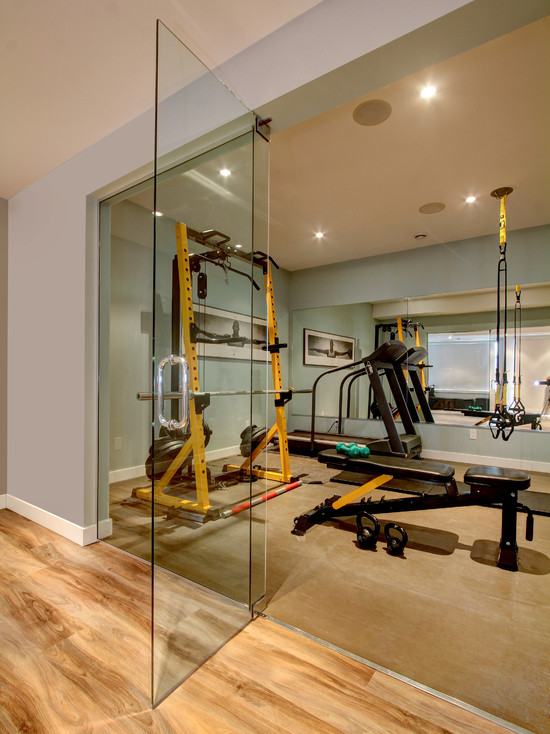 Glass wall. I like how it looks apart of the home for show, not hidden away
Ed Ellis Photography – http://http://wholesalebevelandedge.com/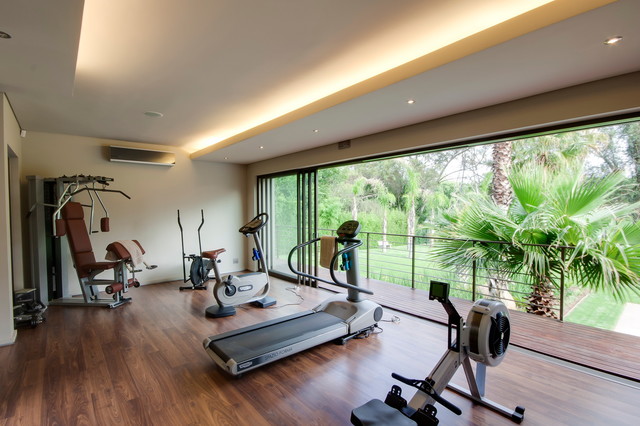 Simple Open room for gym concept.  Great view for working out with fresh air.
Photography by Barend Roberts and Victoria Pilcher – http://www.nicovdmeulen.com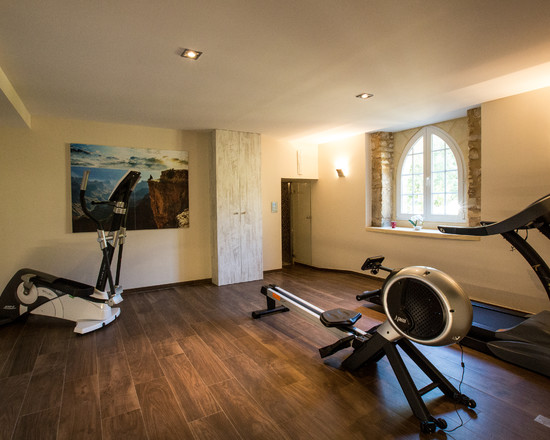 Raphaël Melka Photographie – www.raphaelmelka.com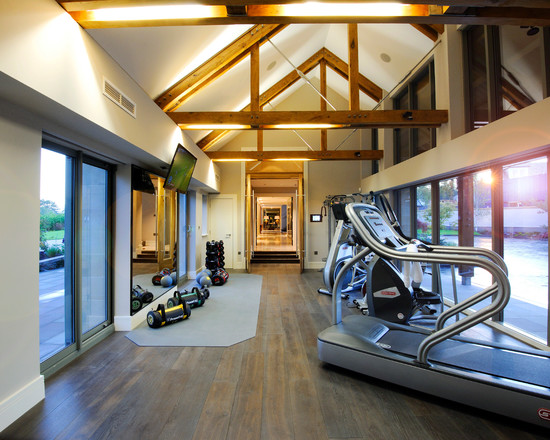 Light coming in from both sides.  Work out early in the morning or late at night.

Photo by Karl Hopkins. All rights reserved including copyright by UBER – http://www.thedesignpractice.com