DIY Gingerbread Ornaments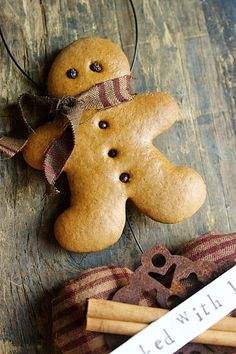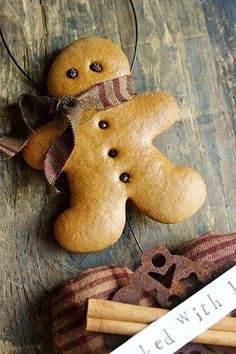 It's almost that time of year again.  With Thanksgiving happening in just a few weeks, it's time to think about what to decorate with for the holiday season.  Gingerbread ornaments are an elegant addition to any holiday decor.  Use them spruce up a Christmas tree with cinnamon sticks and dry fruit slice, use them for garland or simply place them in baskets with other decor.  Learn how to make gingerbread ornaments for this holiday season!
Kid friendly project
Dog friendly footprints
Cookie cutter appropriate
For decorative use only!
How To Make Gingerbread Ornaments – That won't rot and will last for years
Ingredients for Gingerbread
3 Tablespoons Shortening
1/2 Cup Sugar
3/4 Cup water
1 tsp of Baking soda
1/2 Cup Molasses
1 tsp Cinnamon
1 tsp ginger
1 tsp cloves
3 1/2 Cups of flour
**Use Cookie cutters, peppercorns or small rusty bells and clear acrylic varnish
Directions:
In a medium large bowl, beat shortening and sugar together until light and fluffy, stir in molasses.  Combine dry ingredients and sift then add to shortening mixture alternating with water.  Dough should be stiff.  Cover dough and refrigerate for 3 hours or overnight.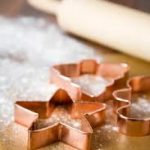 Preheat oven to 350 degrees F and lightly grease baking sheets.
Cut dough into 3 piece sections and knead to warm on a lightly floured surface.
Cut out using cookie cutters and place on cookie sheets.
Decorate with peppercorns and rusty bells.  Bake for 20 minutes, then shut off oven and let cool inside.  Remove ornaments from sheet and place on rack and allow to dry for 3 days.  Then preserve with 3 coats of clear varnish.  Ornaments are not edible and will last for years.
Image credit: Hilaryscraps  Video via istockphoto