How to Choose Gray Paint Colors & Accent Colors for Rooms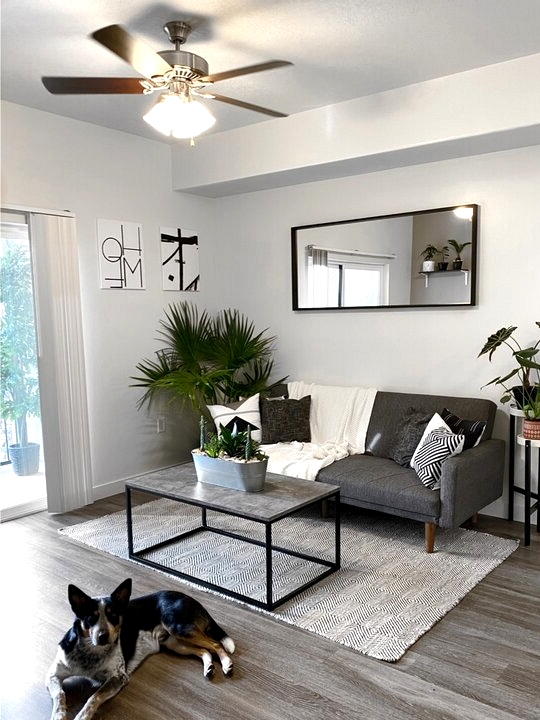 Gray is the hot decorating color. Everywhere you look there are hints of gray.
Picking the right gray for your rooms is not always an easy task. There are so many shades of gray to choose from! Warm, muddy, cool, etc.
Gray also goes well with the warm tones of wood. This makes it easy to use as a decorating tool.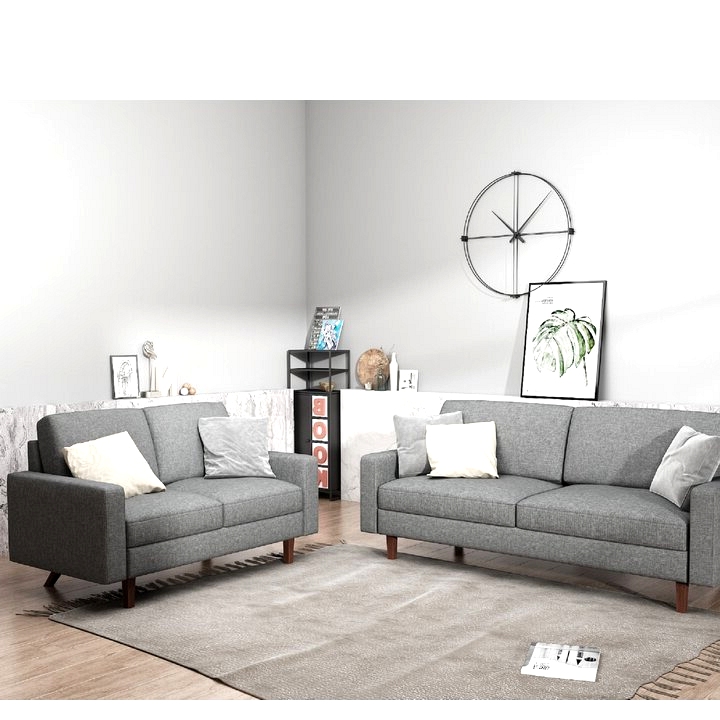 This post explores how you can pick the right gray for your room, whether you are painting walls or using gray as an accent color.
Even though gray has been the 'it' color for a few years, it remains popular because it is so versatile.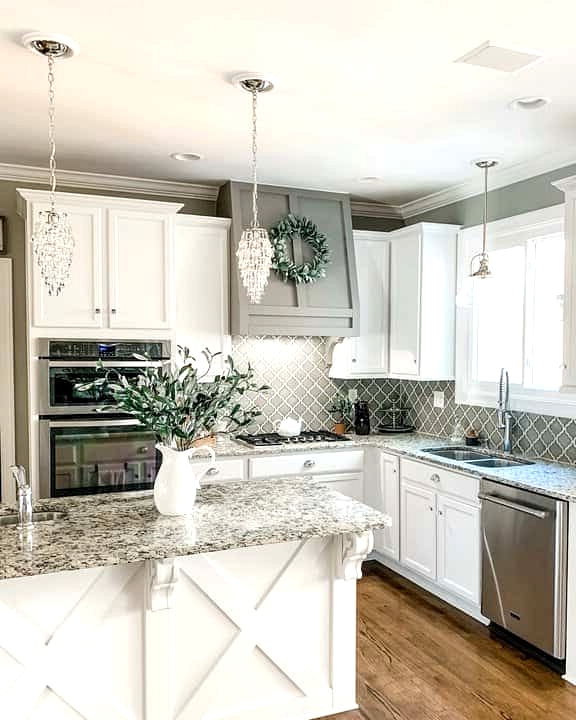 From the shape of your room, the amount of natural light and the style of your existing furniture, they all come into play when using gray. If you are doing your color selection alone; keep reading!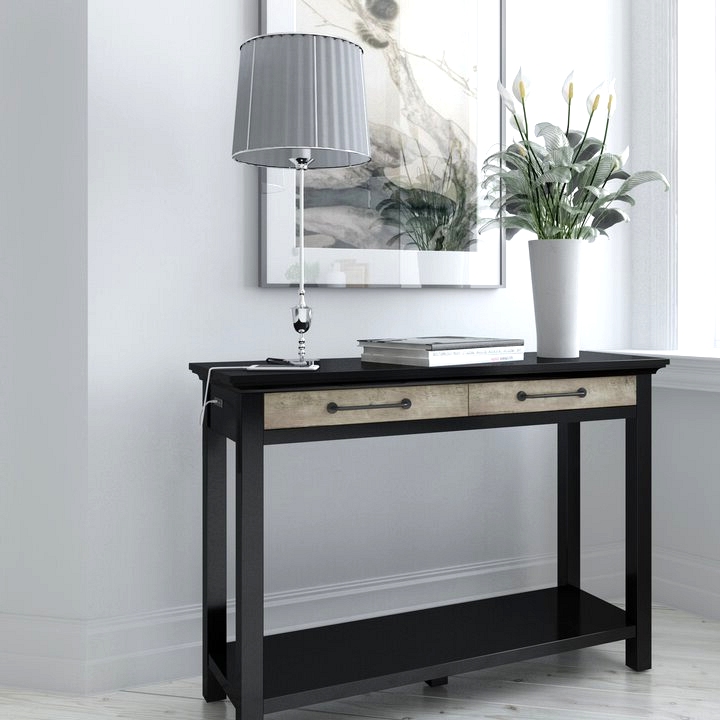 We think of gray as a very elegant neutral. It adds depth to subtle colors and makes bold colors pop. That makes gray paint colors one of the most flattering and popular wall paint colors right now. 
It's the temperature of your gray that you have to get right, so you evoke cool or warm depending on which mood you want to create. A warm gray paint color is a great choice.
They don't always shine on color charts but put them on the wall to see how they can transform your room without taking over your entire color scheme. Is this the right choice for you?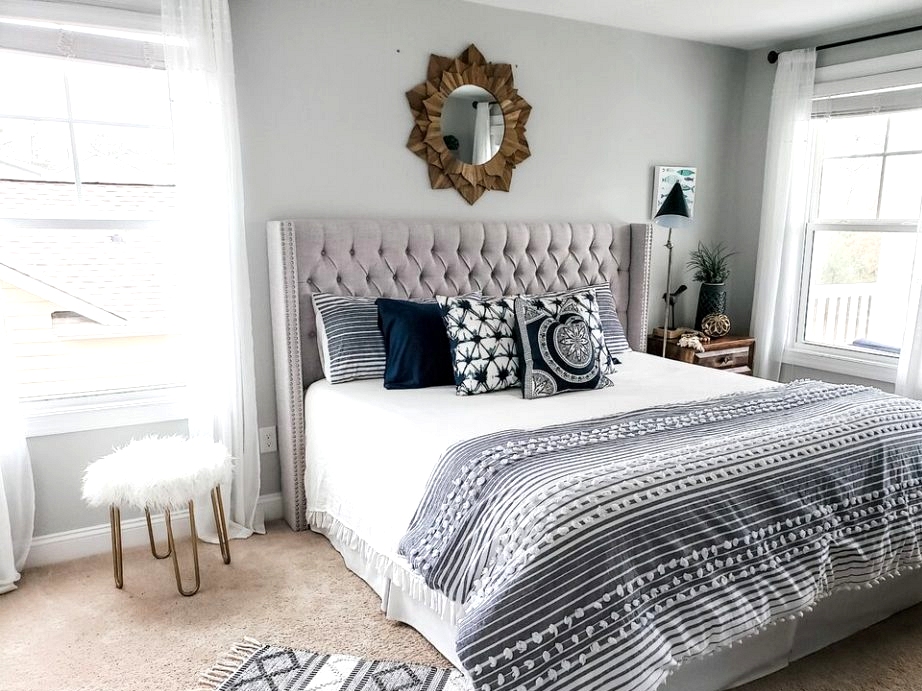 Choosing Gray Paint Colors and Natural Light
The first thing to gauge is how much natural light your rooms get as well as which direction this light comes from. The direction of the light works to make your gray shade either cooler or warmer.
If you face north, the northern light is the coolest, creating a bluish hue while southern light creates a warm golden hue. East and west changes during the day, as the sun moves through the sky. Western light is warmer at sunset while an eastern light is warmer at sunrise.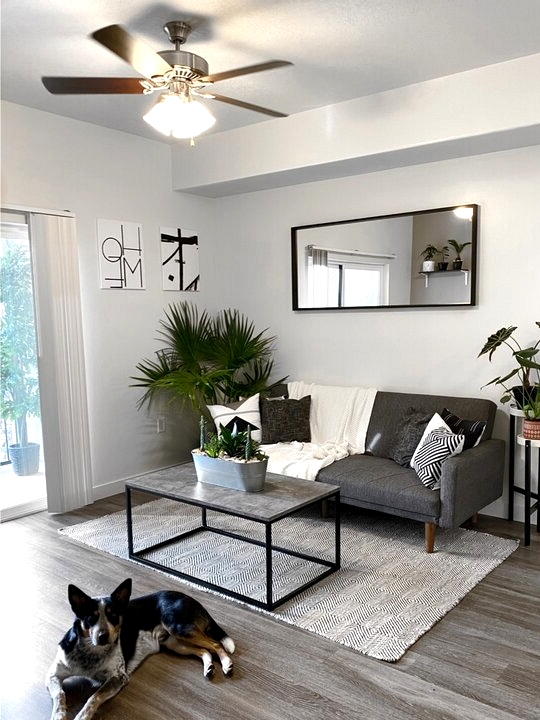 This single quality about natural light makes choosing gray paint very difficult if you are making your decision off a tiny color chart.
Gray Paint for Northern Light
Rooms that face north can be the most difficult to decorate . If your rooms face north with little or no natural light consider using gray as an accent color. A cool northern light can make some grays look icy and flat. 
Work with your room and think about using strong dark colors. Grays with brown undertones can warm up a room without using loud colors and remaining elegant.
Charcoal gray paint is very dramatic and perfect for a dining room. Its glamorous and inviting.
If you prefer warmer tones, avoid gray-blue paint colors or green gray paint. These will make your room look and feel even colder. Use yellow or beige based gray, sometimes called greige, to bounce as much light around as possible. These rich shades make warmer grays.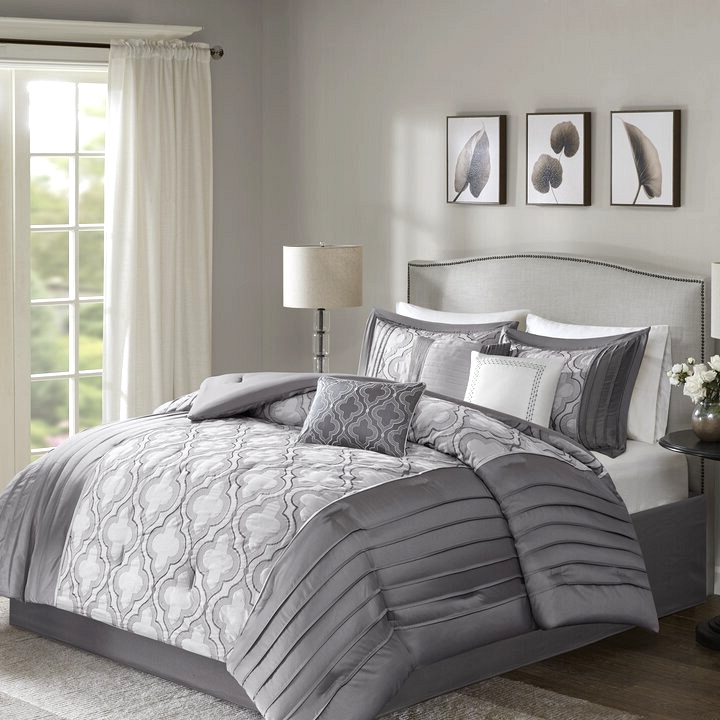 If you want to add blue gray paint to your rooms, add or change your light sources – from floor lamps to sconces – to make your gray paint look its best.
Use layered lighting to make the room and you look great. An overhead fixture alone will create more shadows. This is a look best avoided.
Want to dive into something more specific? Keep reading to find the best ways to use gray paint colors and accents in your home.
West Facing Rooms Warm Grays
Like North facing rooms, west facing rooms are dressed best in grays that contains a whiff of beige or yellow which draw in the light and warm up as evening arrives and lights are switched on – cooler earlier in the day and warmer late as the color changes from morning to night.
These hints of yellow create warm, cozy but low-key luxury rooms. Some yellow-grays can look taupe. If you room has little light pick warm light gray paint colors for a quick pick me up.
Gray Paint for Southern Rooms
If you have a rooms facing south, its time to smile. South facing rooms are a joy to decorate. The light quality lets you use both warm and cool gray color schemes – all colors look great in your light.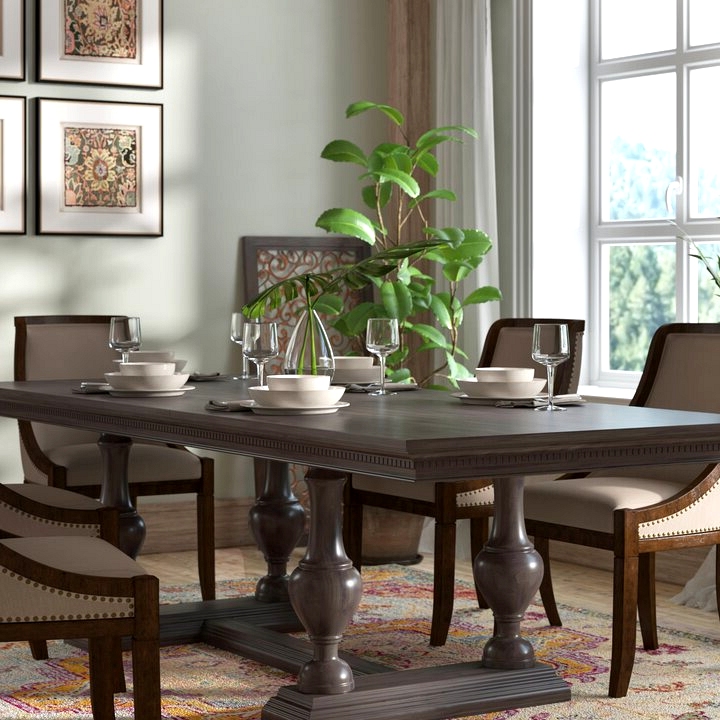 If you want rooms that feel light and spacious; use pale tones or warm gray wall paint colors that are easy to live with.
This dark lavender-based, textured gray bed cover looks perfect here, and is balanced by the dark warm floor, yellow tones in the bedside tables and white walls.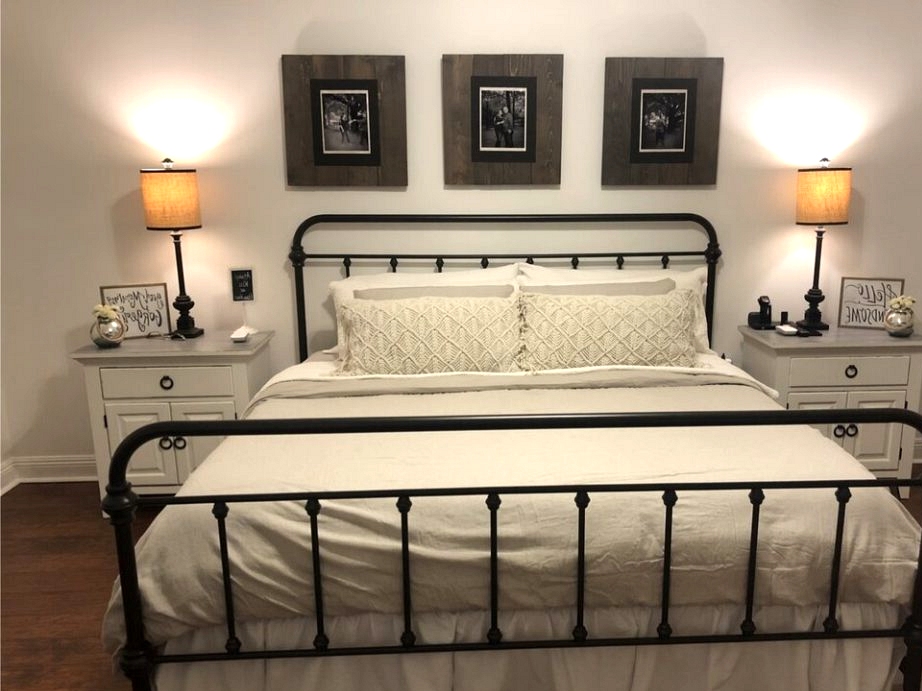 Gray Paint for Eastern Light
East facing rooms can appear a little blue.  Its often best to go with it and choose green or blue grays, like a French gray, which are perfect for interior and exterior paint. 
Like south facing rooms, you can get away with using a more blue toned gray but if your climate is on the cooler side, add layers of gray so you room does not look clinical or too cool.
Green based blues are often the most neutral. They are easy to live with because they go so well with other colors and wood tones. Adding tones that are warmer and lighter, you get more light into your room and make them feel relaxed and cozy.
To stop your room feeling too cold, use natural wood, warm metals and warm colors.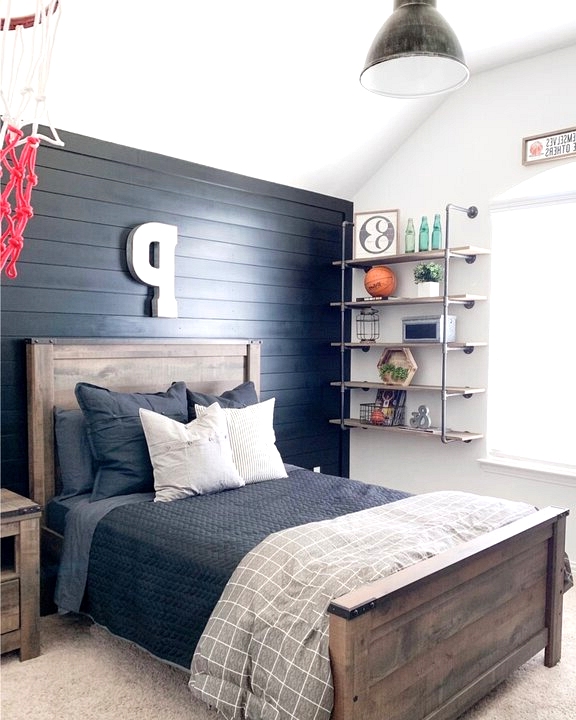 Color Schemes that Go With Gray 
What makes all the different shades of gray paint look so different is the color's undertone. The best way to visually see the undertone is by lining two grays together, side by side. Suddenly you can see that one might be bluer or more purple, and the other has a tinge of yellow or red.
Alone they can look like any other gray wall color but place them side by side and you can quickly see the other colors mixed in to give each gray their different and unique shades.
Most paint colors called "gray" aren't a pure gray; that's white base mixed with an amount of black paint.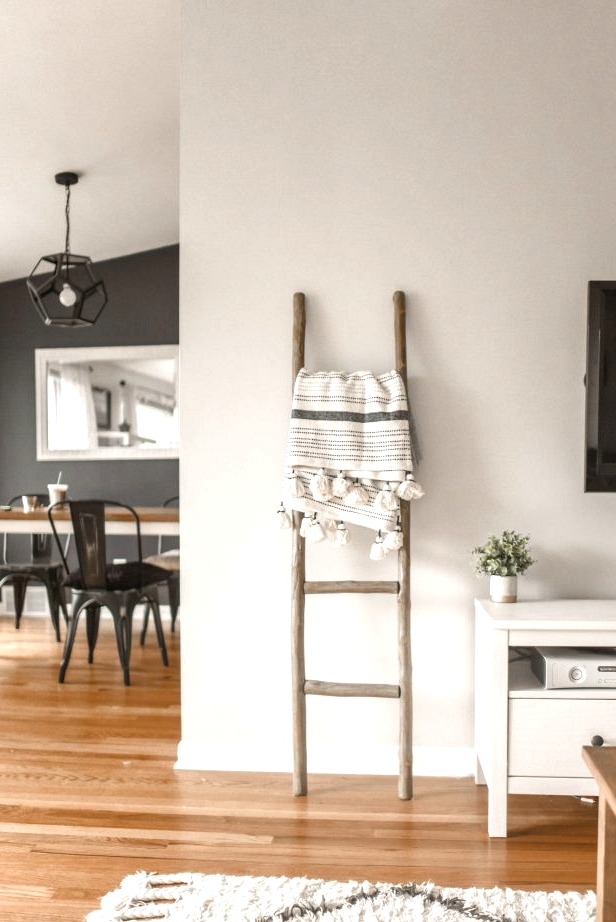 Grays look different in different light and in different size rooms. From charcoal gray colors, gray-blue paint, purple to lavender, blue or green, yellow, red or brown – buying gray paint based on the undertone will create the mood you want and go with existing furniture, carpets or flooring.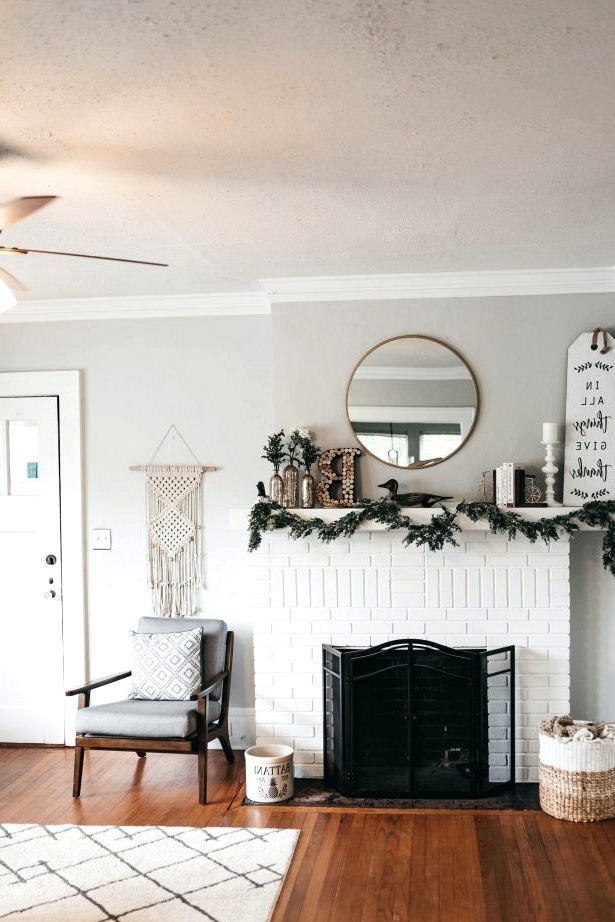 Grays with a lavender undertone appear softer and more feminine, gray painted walls with blue or green greys act slightly more neutral, while gray with a brown or red undertone will look warmer.
Silvery grays almost always turn blue. Cool grays are particularly good with stainless steel and look great in kitchens.
If you room feels too cool you can choose trim paint colors that go with gray, add warm woods, or warm your gray and black room with warm white and camel.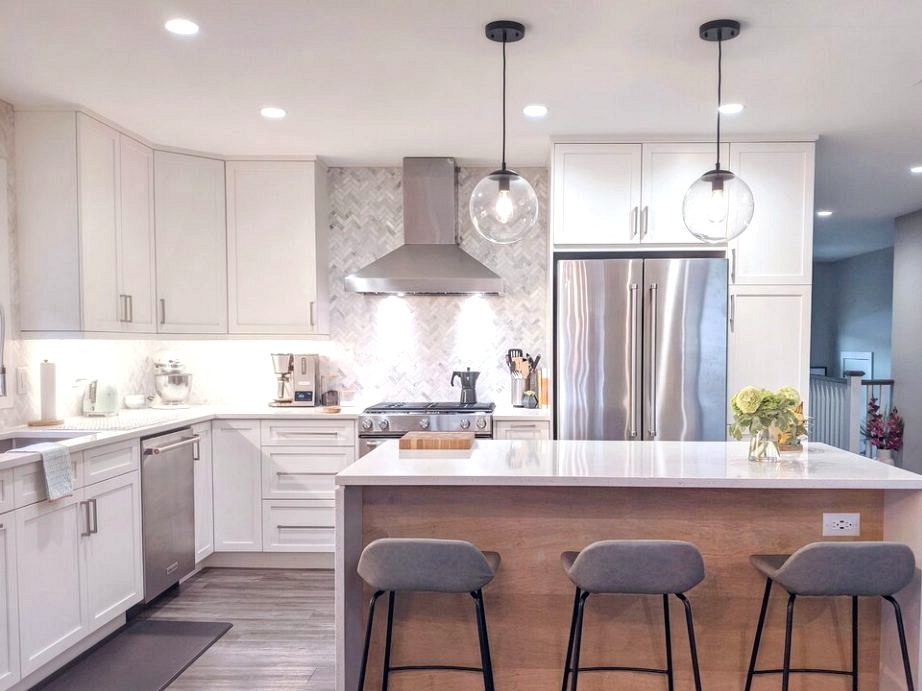 This becomes important when you are selecting color schemes to go with gray and done by choosing a gray that has an undertone opposite to your accent color. 
This list can help you – for example, if your accent color is yellow, a good gray is one with an undertone of royal purple or bluish gray paint colors.
Gray Accent Colors and Undertones
| Accent Color | Undertone in Gray Paint |
| --- | --- |
| yellow | royal purple/blue |
| orange | blue |
| red | emerald green/blue |
| magenta | bright (Kelly green) |
| purple | chartreuse yellow/green |
| royal purple/blue  | yellow |
| blue | orange |
| emerald green/blue  | red |
| bright or Kelly green  | magenta |
| chartreuse yellow/green  | purple |
Even though purple is a hot color, right now people seem to be using it the least, as an undertone for their gray.
This is probably because it may not go with existing furnishings or wood furniture that has earthy oranges and reds.
The room below uses it with minimal warmth to reduce the warm pinks and purples from peeking through.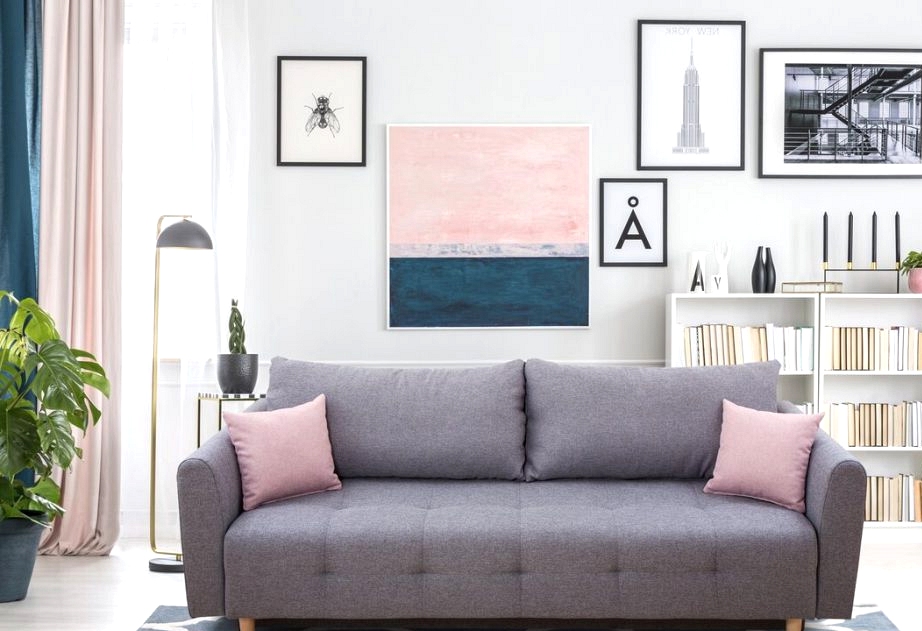 Greys for Soft Accent Colors
If you are looking to create a softer look, don't use the chart above. Instead, choose grays with the same undertone as your accent color. 
If your accent color is yellow choose a gray with a yellow undertone on the same family – so if your accent color is yellow with a green undertone, choose a gray with a similar yellow/green undertone.
How to Test Your Gray Paint – Is it really you?
1. Flat paint looks best on gray painted walls.
Beautiful grays often look like industrial factory metal if you use semi or high gloss paint, on the other hand flat gray paint looks better and helps to hide flaws and smudges.
2. Gray painted walls – Cream trim.
If pure white is too stark against your gray paint colors add yellow, brown, cream or red to your white trim to add warmth and color balance.
3. Invest in sample pots of your colors and paint test squares.
Move these around the room during different times of the day when your natural light is at its best or weakest.
Making note of how these colors change with light is vital to choosing the best gray paint color for you. 
Place testers near your trim to see how they looks – you might decide to paint that too. Number your samples so you don't confuse your pots and paints.
4. Let your painted walls sit for at least a day.
This way your paint selections can dry properly and be absorbed so you can see how they look at various times of the day.
5. Remove paint colors you don't absolutely love.
Some will be obvious, others may take a day or two of living with before you make your final decision to either keep or remove them. If it's still difficult to decide paint larger areas to see the true colors clearly.
6. Work out your color scheme and vision for your room. Then decide on a shade.
Only then will know which gray paint colors suit your accent colors the best considering your room and lighting sources.
You may want a bright yellow to go with your gray. But if the undertone of your new gray makes your yellow turn a slimy green it might be time to move on.
This cool gray below is restful.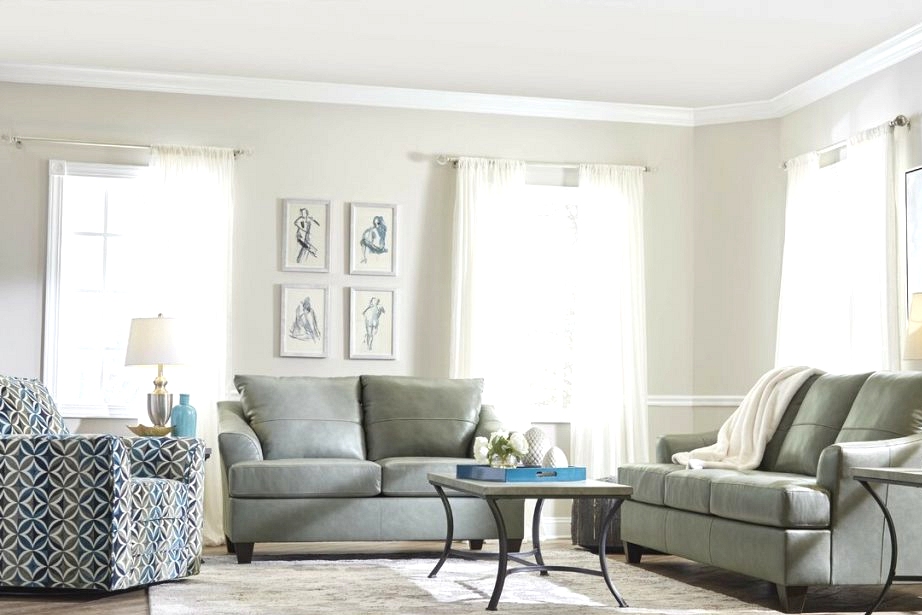 Light cool blue grays are easy to live with as with the bathroom below using Benjamin Moore's Sea Foam paint color. 
You can add more even more brown to add warmth to your gray and your room like the table below.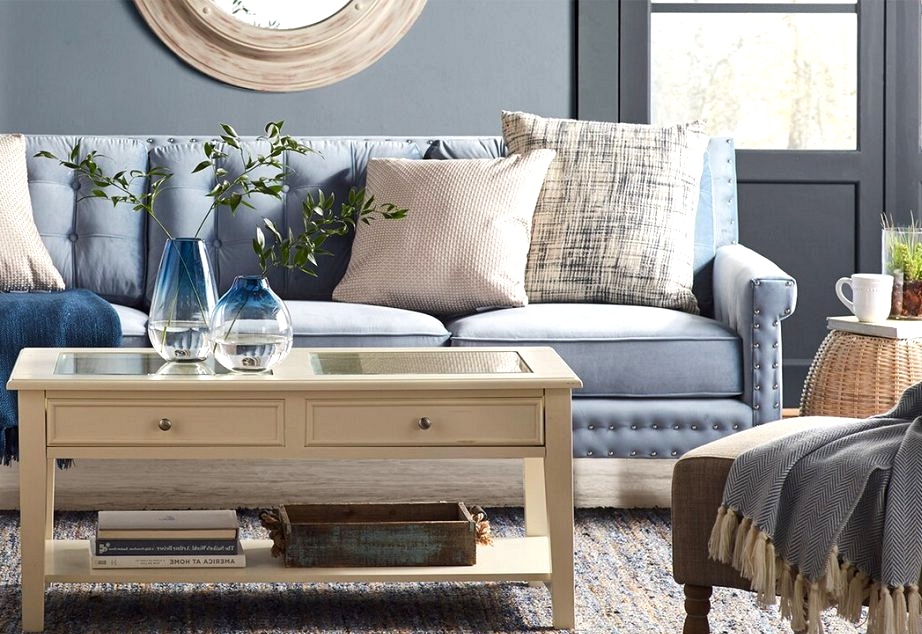 With the right accent colors your gray paint colors can look practically white.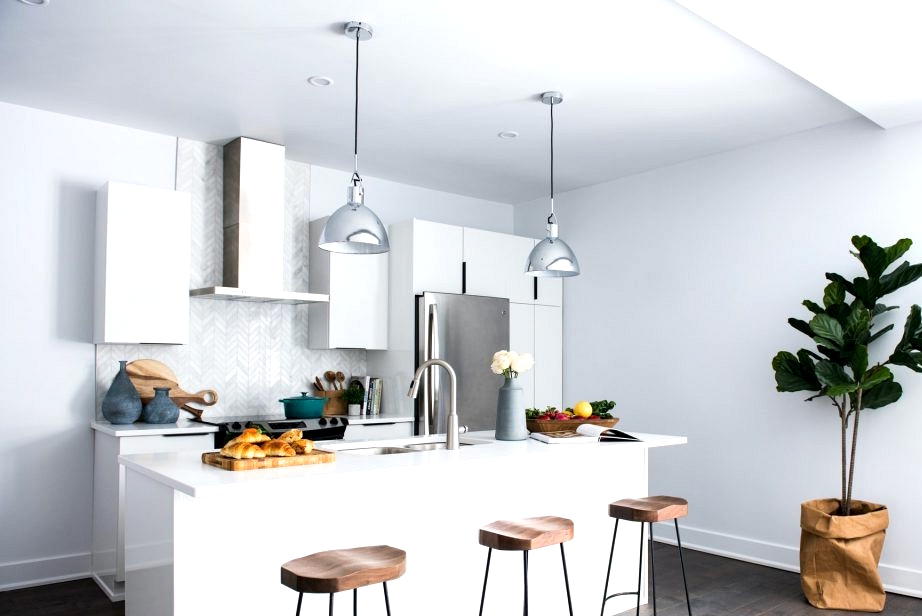 The best way to start your gray discovery journey is to find an inspiration piece and use this to anchor all your decisions around it.
It can be a decorative piece, a piece of clothing or even wrapping paper. It will guide your choices on undertones, accent colors and paint colors.


Thank you.Credit Source link